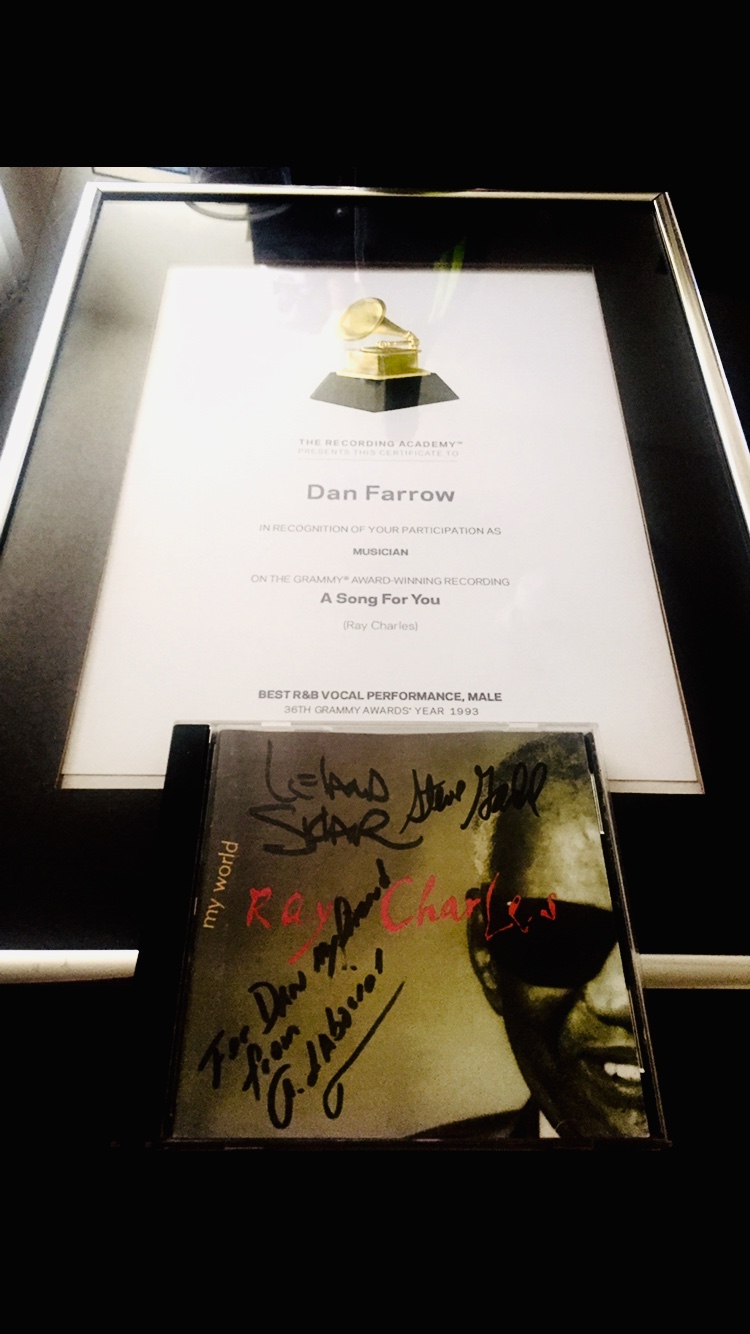 For this years Grammys the Recording Academy honors extraordinary international Recording Artist, Session and Touring Keyboardist and Producer Dan Farrow with this special Grammy Award for his work on this Grammy winning and Gold and Platinum selling Album for Warner Brothers Records by America's Musical Treasure, Mister Ray Charles.
Produced by Mega Producer Richard Perry (Tina Turner, Diana Ross, The Temptations, The Pointer Sisters, Rod Stewart and many others) it features everybody from Billy Preston to Michael Jackson's Band to Mavis Staples and Eric Clapton and more.
Dan Farrow with Ray Charles
Dan is always busy recording, producing and performing.
Some news & events are listed below:
Also, Dan and Soulstar Productions are available for these services
(Dan's music has been heard on CBS, NBC and ABC
as well as commercials by Fortune 500 companies):
COMPOSING
PRODUCING
RECORDING
MIXING
MASTERING
CONSULTING
BRANDING
MARKETING
PROJECT COORDINATION
CLINICS (WORLDWIDE)

INSTRUCTION (PIANO/KEYBOARDS/SYNTHESIZERS/VOCALS/GUITAR/BASS)
Hollywood and Beverly Hills locations - or via Skype
TOURING
FOR BOOKING CLICK:

CHECK OUT THE NEW CLOTHING LINE! THE DAN FARROW LEGENDS COLLECTION.
NOW IN THE EXPANDING MERCH SECTION. CLICK HERE FOR SOME COOL STUFF!
MERCHANDISE
HERE IS A CHANCE TO GROOVE, GET DOWN, DANCE AND SING - 24/7 - WITH YOUR FAVORITE ARTIST!!!

DAN'S AVAILABLE MUSIC CATALOG INCLUDES MUSIC IN FUNK, SOUL AND JAZZ SPEARHEADED BY THE CDS "EVOLUTION", "SPACEFUNK" AND THE MOST RECENT "DEVOTION", FEATURING THE MUSICAL DIRECTOR FOR JANET JACKSON, PATRICE RUSHEN, MEMBERS OF HERBIE HANCOCK AND JAMES BROWN AS WELL AS OTHER ARTISTS.
SCORE SOME FUNKY MUSIC ON AMAZON TODAY - FROM A CATALOG OF ALMOST 40 DAN FARROW TRACKS!

CHECK IT OUT HERE:
amazon.com/Dan-Farrow/e/B001LHVKLO
DAN FARROW MUSIC CAN BE HEARD WORLDWIDE ON MORE THAN 150 RADIO STATIONS,

DOWNLOAD AND STREAMING SITES INCLUDING iTUNES, SPOTIFY, PANDORA, YOUTUBE, iHEART RADIO AND MANY MORE.
Ongoing: Performing with his Funk Band and backing up major artists
as well as doing private parties and corporate events.
To book click CONTACT
Also, tearing things up on the mighty Hammond B3 organ - Dan is an official Hammond and Leslie artist - in sessions and at a number of Southern California Gospel Music Churches.
Dan is much more in the studio these days, working on his next release and other projects, but is available for producing, mixing and mastering a select few artists or composing music for film and TV with an expertise that includes working with many of America's top Gold- and Platinum selling and Grammy winning artists - schedule your session today by clicking here
platinumjazz2000@yahoo.com. He is also available - schedule permitting - for touring with major artists as a featured multi-keyboardist and on vocals.
Dan is also currently looking for a few more executive producers to complete work on an incredible music film - most of it already done! Please send an email to
platinumjazz2000@yahoo.com for more info on this great endeavor and opportunity and - he continues to work on a book.

April 2014: Dan is using and endorsing the keyboard of the year, the Casio PX-5S as his main weighted 88 key piano, synth and midi master controller in his studio. It suits his playing very well. Look for new tracks using the latest sounds of this awesome keyboard. It is played by everybody from Larry Dunn (Earth, Wind & Fire) to George Clinton's band.

March 2014: Yet another endorsement is having Dan funking around on this outrageous funk machine, better known as the legendary Mutron envelope filter on some of his current and upcoming recordings, the new, improved and expanded Tru-Tron 3x. The effect is also used by Stevie Wonder and Bootsy Collins. Sounds like "Nothin' like tha real thang baby!" Let us know when you get one.

February 2014: A call from Gail Jhonson (Musical Director for Norman Brown) leads to Dan mastering the new CD for Jazz In Pink, Gail's latest recording project, featuring Karen Briggs, Prince's Kat Dyson, Althea Rene, Jeanette Harris and others.

September 2013: Dan gets to hang with Stevie Wonder and his band at a large rehearsal facility in Los Angeles. The musical director for Stevie for more than 35 years, Nate Watts, calls Dan the night before to make sure he is coming down so Stevie can hear him along a good number of other musicians from Prince, Earth, Wind & Fire and others, to be Stevie's next keyboardist. He plays a number of tracks with Stevie's band that day.
May 2013: Playing a fun party in the OC with Greg Smith and En Vogue bassist James Strong.
March 2013: Dan is active as an Educator and he also finds time for private instruction.
NEW: Skype Lessons are available as of this month. Please send an email to platinumjazz2000@yahoo dot com for more info.
March 2013: Dan gets invited by top Billboard jazz artist Greg Manning to join him onstage where he gets to funk it up with longtime friends Ricky Lawson, Munyungo Jackson, Stan Sargeant, Darryl Crooks and others.
January 2013: A call from TV producer Michael Ajakwe (Unsung TV series) leads to Dan appearing on "Trophy Wives" alongside Ray Parker Jr. (Ghostbusters). Also on the show are Sly Stone, Deniece "Niecy" Williams, Karen White, Judy Pace (Shaft) and Greg Thomas from George Clinton's band. The next day he performs at a private event for the exclusive new Privia keyboard line with Larry Dunn (E,W&F) and Joe Sample (The Crusaders) and provides demo tracks for the company.
On the downside some artists Dan has worked with over the years passed on in the last few weeks and are joining Michael and Whitney and many others for the ultimate band in the sky. Dan would like to acknowledge guitarist Miles Joseph (Aretha Franklin) and James Brown soul sister #1 Marva Whitney (Dan played keyboards on several "James Brown's Funky Divas" tours to Europe featuring Marva). Also Lou Wilson from the great Afro-Funk band Mandrill (Dan has been friends with Lou for 15 years and got to play with some of Mandrill's musician's over the years) as well as Claude Nobs, the founder of the world's longest jazz festival, the Montreux Jazz Festival (Dan's first major jazz festival gig, still a teenager).
December 2012: Dan has been in the studio all year and will be releasing a number of new material this coming year featuring his signature style comprised of almost all vintage instruments featuring his custom sounds. A number of gigs united him with some of his friends for the holidays.
October 2012: Dan gets to hang out with long-time idol Patti Smith as well as with Johnny Depp and Flea from the Red Hot Chili Peppers.
September 2012: Dan's music is making the CDBaby charts.
August 2012: Dan gets a call to perform at the Long Beach Jazz Festival. On the bill are The Isley Brothers, Larry Graham Central Station and David Sanborn among others. He also gets called to play with the great Sheldon Reynolds of Earth, Wind and Fire fame. Dan sings on a few tracks for an upcoming vocal album scheduled for a 2013 release. He gets to master (preparing for broadcasting or CD release) the music for a number of projects including some tracks for good friend and returning client Alien Tribe. Dan's longtime friend and fellow keyboardist Patrick Moraz (The Moody Blues, Yes) calls, they will be doing some work together when he returns from Europe. He loves Dan's music and style and exclaims "I downloaded your entire iTunes catalog (almost 40 tracks), I love your stuff!". Thanks Patrick! So that's how Dan's music cracked the iTunes charts in Europe last year, people are buying his entire iTunes catalog. Talking about being supportive...
July 2012: Dan is recording some of the material he wrote with Bonnie Pointer and Eric McKain in Keith Rouster's (Michael Jackson) studio.
June 2012: Dan gets to place a number of tracks in several music libraries. A few recording sessions for up and coming artists makes him break out the old Mini Moog Model D by the Moog Corporation, a company that he has been endorsing for years. A writing session with Bonnie Pointer resulting in three tracks continues Dan's long work association with the Pointer Sisters ever since he got to work with sister June Pointer on the Triple-Platinum and Grammy-winning "My World" CD by Ray Charles more than two decades ago. A few jazz dates reunite him with long time friends Enzo Todesco (Gino Vannelli) and Larry Antonino (Ronnie Laws). Dan has a meeting with the director and producers of an upcoming movie which should allow him to place some of his large catalog of music in yet another movie. He is also involved in Software Testing for the Tony Newton Bass Libraries for computers by the Artvista Music Company. Dan gets to do some press including an interview for DailySingle.com. He's also does L.A. Talk Live, the radio show with Eric McKain.
January 2012: Some of the more exciting things in January include Dan hanging out with Paul McCartney, David Crosby and others during Grammy Week.
December 2011: This year was full of diverse projects. Almost 80 new Farrow compositions were registered with the library of congress this month. Expect to hear his work in a number of media in 2012. The long overdue 4th CD is scheduled for release in the coming year. The studio has now an exciting balance of vintage analog equipment and computer based software and plug-ins. Even though the studio is software based, a standalone 24 track digital recorder is now available for both studio and live applications.
Dan's music cracked the iTunes Top 100 in North America as well as in Europe and he did a number of gigs including a fun show with Motown bass player and Funk Brother Tony Newton. 2011, another great year!
October 2011: Dan gets asked by legendary movie star and Oscar nominee Dyan Cannon(Cary Grant, Warren Beatty) of "Heaven Can Wait" fame to do some work for a new TV show.
September 2011: A well deserved break allows Dan to catch up with some of his old friends, among them one of his mentors, Quincy Jones. They talk about when they first met in the 80s in Europe and Dan's keyboard work with the Brothers Johnson, the funk group Quincy produced in the 70s before he went on to produce the world's most successful entertainer, Michael Jackson.
August 2011: Dan gets tapped by his good friend Haakon to do some east coast dates with Munyungo Jackson (Stevie Wonder). Dan has been busy working on a bunch of tracks for a number of artists and companies. More info on that soon.
May 2011: These last couple of months were mostly filled with studio work. A number of projects got the "Farrow" finishing touches at his studio, among them the new album by Alien Tribe(alientribe.com). The CD is called "We Are Here" and got mastered at Outer Space Studios, Dan's recording and mastering studio.
March 2011: 'Harlem Underground' and 'Journey To Nirvana', two tracks from Dan's third CD "Devotion" crack the music charts in North America and Europe, among others. Check it out here:
http://www.music-chart.info/artist/124522/Dan-Farrow
February 2011: Dan got invited to Stanley Clarke's new record label release party. Performers on stage included Earth, Wind and Fire's Verdine White and Larry Dunn, Lynne Fiddmont, Eric McKain, Munyungo Jackson and others. Dan also gets to play and it was just a super great hang. Stanley hears some of Dan's jazz-fusion stuff a few days later, loves it and arranges for an immediate phone conversation. A few days later they meet in person. There are talks about doing some work together. Exciting!
December 2010: A quick update: This year was another great year. Dan was very busy both in the studio and live where he got to work with some of his idols. The new CD is almost finished and a release is scheduled for 2011 if Dan is able to find the time. Tracks from his previous CDs continue to enjoy radio play in the US, Europe and Asia. Dan's upcoming 4th CD will be the funkiest one yet, with lots of Clavinet, Rhodes and Hammond B3 organ. Strap yourself in!

September 2010: Dan Farrow is #1! Dan's track "Funkatazz" from his CD 'Evolution' is the most requested song on Source Radio KJAC, the jazz station, ahead of Bob James, George Benson, Quincy Jones and Al Jarreau. Check it out here:
https://www.thesourcesmoothjazzradio.com/_smooth%20jazz%20artists.html
July 2010: The summer months didn't slow Dan down one bit. Along with the usual work load he has written and recorded twenty new tracks and done dozens of remixes, some of them to be used on his upcoming 4th CD and others to be used and licensed in a number of sound libraries, both in the US and abroad. He also works on placing some tracks in video games.
March 2010: Dan has been busy the first few months of the year, performing throughout California, doing sessions and organizing audio and video recordings from both studio and tours from all over the world to be used in an upcoming documentary.
January 2010: Congratulations to jazz guitarist Nils. His track "Pacific Coast Highway" from his second CD of the same name has just been named "Track Of The Decade" by Nielsen/Billboard Magazine. It is the most played smooth jazz song of these past ten years in America. The CD features some great musicians like Gerald Albright, Chante Moore, Abraham Laboriel and others and got some funky clavinet on it played by Dan.
January 2010: Dan's track "Funkatazz" from his "Evolution" CD has just been featured on the "Very Best Of" edition of Canada's top jazz radio show "Cafe Jazz". He is in the most amazing company and is featured along with Peter White, Special FX and Shakatak. You can read more about it here:
http://www.jazzlynx.net/09notes/ed551.html#Farrow. To listen to his music you can click on the first link below his radio station write-up on the website. Come back soon to the Dan Farrow site and be the first to check out new music by Dan.
December 2009: Another great year has gone by, filled with lots of live and studio work. Highlights include to be asked to play the Hammond B3 organ on the "How Sweet The Sound" Gospel tour. Performing in front of 20'000 people at the sold out Great Western Forum in Los Angeles CA, he knew it was a great day when he saw special guest Stevie Wonder sitting in the front row, bobbing his head to the music.
April 2009: Great review! "Mouthwatering...tantalizing grooves...enjoy one more glass of wine and hit repeat on your player...". These are just some of the words that are being used in a new review of Dan's CD 'Devotion'. You can read the full review in the April edition of the Urban Music Scene at
http://musicreviews.theurbanmusicscene.com/2009/04/dan-farrow-devotion.

Other artists reviewed are Larry Graham, Tower of Power, Dave Koz, Charlie Wilson and the Ohio Players.

The site is featuring the world's best Soul, Funk and Jazz Artists.
March 2009: Check out the new CD by one of America's top jazz guitar players, Nils's "Up Close And Personal". It is loaded with beautiful music and features Ricky Lawson, Alex Al, Larry Dunn, Reggie McBride among others and Dan playing some funky clavinet on a number of tracks.
February 2009: When Ted Hasiuk from Canada's Cafe Jazz radio show heard Dan's track "Funkatazz" from his 2001 'Evolution' album he said that it is "funktastic!". So he is featuring it for his March 8th radio show, together with Everette Harp, Boney James, Norman Brown and Earl Klugh. Tune in!
December 2008: The release date for Dan's new album had to be pushed back to 2009 due to a heavy work load in the studio, doing sessions and performing live. Look for a number of releases this coming year with Dan's name on it.
September 2008: Soulstar Productions, Dan's studio services, are adding mastering to their list of services. The equipment used varies and features a customized analog and digital signal path including tape and tube stuff. For more info please email Dan at platinumjazz2000 at yahoo dot com.

May 2008: Music for some new projects is coming along nicely. Dan and some tracks from his third CD "Devotion" will be featured together with George Benson, Bill Evans and american funk legends Tower Of Power on a Jazz Special on Canada's favorite Jazz Radio Station.

The show will be aired on June 1st and is already available on demand at
http://www.jazzlynx.net/08notes/ed486.html#Farrow

Listen to hour #2. About half way in you will hear Dan's single "How Much I Want You" together with information on his music and other endeavors. The show will not only premier on June 1st but will also air on radio stations - online and off - in the United Kingdom, South America, Canada and the US.
January 2008: This past year has been another blessed year working with lots of different artists and groups. Dan has been busy recording and mixing down the tracks for the new album. Check back soon and be the first to check out his funkiest work ever.
October 2007: Dan's CD "Devotion" has been added by more radio stations, putting some of the tracks on their playlist. Some of the stations are smoothjazz.com, the world's number one online jazz station and myjazznetwork.com, the radio station by Cameron Smith (Smooth Jazz TV and BET Jazz). Dan's music is on the radio in the U.S., Europe and Asia.
September 2007: Dan has written, recorded and produced more then 50 new tracks over the summer. About a dozend will be on his 4th album and most of the others will be used in a number of projects, including TV and games.
May 2007: Recording & Production of a track co-written by Dan with James Brown/Maceo Parker vocalist Martha High in Los Angeles. She will be performing at the Olympia in Paris with Sly & The Family Stone.
May 2007: Playing Hammond B3 & other keyboards with a Gospel group for Woman's Day at a Los Angeles Baptist Church.
April 2007: Funking it up with Blues/Soul man Bobby Griffen & Band at Harris Casino.
March 2007: Performing at Spaghettini with Contemporary Jazz Band Sidemen Inc., featuring A-list players that perform behind big-name artists. The band includes K.T. Tyler (Paul Taylor), Stefan Lexner (Eric Darius), Nat Scott (The Dazz Band) and Greg Vail (Peter White).
March 2007: Playing keys in concert at La Ve Lee in Los Angeles for former Gap Band and Ray Charles sax man Larry B. Willams with special guest Rahmlee Michael Davis (E,W&F).
February 07: Dan started recording some tracks for legendary jamaican reggae producers Sly & Robbie. Now there's an adventure!
January 2007: Dan is performing at NAMM for IK Multimedia with John Blackwell (Prince, Justin Timberlake) and Bill Dickens (Aretha Franklin a.o.) He is also playing for french company Arturia with fellow keyboardist Stephane Deriau (Jamiroquai), presenting their latest virtual synths in the process.
December 2006: Busy in the studio, Dan is recording with various artists. He also gets tapped by Mother's Finest bassist Wizard to put his trademark funk board work on a number of tracks for his upcoming album. Mother's Finest has been one of Dan's favorite bands forever.
November 2006: Dan is performing two concerts with former Motown (and James Brown produced) group Sly, Slick & Wicked and legendary Aretha Franklin label mate Barbara Lewis("Hello Stranger", "Baby I'm Yours", "Make Me Your Baby" and others) at the Brewery Arts Center in Carson City, Nevada.
November 2006: Dan just received Sonik Synth 2 and Sample Tank 2, two virtual workstations from IK Multimedia, an italian company Dan endorses and performed for at the NAMM show earlier this year.
October 2006: Korg USA is sending Dan their latest standalone and plug-in synthesizer, the Triton based Korg X-50. It replaces his Korg T-3 EX that got destroyed by the airline while on tour with Rose Royce. It will be used both live and in the studio.
August-September 2006: Dan is performing with a number of bands in the US, among them Gap Band bass player's R&B band Tyghtship, performing in various cities around California.
June-July 2006: Dan is changing the hardware setup of the studio, linking computers, hard disk recorders and sound modules
for an improved workflow.
May 2006: Pre-Production has started for Dan's 4th CD to be released in 2007.
April 2006: Dan is back in various studios working on a number of projects, including working on some new songs for artists in the US and Europe. Stay tuned. He is also doing some remixes of previously released material.
- March 2006: Dan is playing with Rose Royce on the 31st at the Grove of Anaheim in California. They are doing the Old School Funk Fest with Lakeside and Evelyn Champagne King.
- March 2006: Johannesburg, South Africa is home for three weeks. Dan is producing an entire CD for South African singer Tina at Downtown Recording Studios where already U2, Duran Duran, Kirk Franklin and Brian Eno had recorded.
- February 2006: Rose Royce and Dan are playing at the Avalon in San Jose on the 24th.
- February2006: Dan plays a sold out show with Rose Royce on the 11th in front of 9'000 screaming fans at the Orleans Arena in Las Vegas, Nevada and shares the stage with Roger Troutman's Zapp.
- February 2006: Digital music downloads: The latest figures show that a great many people from around the world are downloading Dan's music. His tracks are currently available on more then 60 internet music sites worldwide including Rhapsody, Musicmatch, Napster, AOL-, MSN- and Yahoo-Music, and iTunes.
- January 2006: Dan is adding IK Multimedia and Moog Synthesizers to the list of companies he is endorsing. He has been playing Moogs since he is a teenager and still has his original Mini-Moog that Bob Moog had signed in gold.
- January 2006: NAMM show 2006 performance for IK Multimedia in Los Angeles: featured performers are Dan Farrow, Morris Hayes (Prince), Bernie Worrell (Parliament/Funkadelic), Larry Dunn, (Earth, Wind & Fire) and others.
- January 2006: Dan performs with Grammy Award winning hit machine, the great Norman Whitfield produced funk band Rose Royce (Car Wash, Wishing on a star, I wanna get next to you etc.) in Los Angeles.
- December 2005: 2005 has been another great year for Dan. He's been very busy on many levels. Recording and production work in the recent past included music for legendary Motown producers Jeffrey Bowen and Brian Holland, four-time Grammy winner Deniece "Niecy" Williams and former Marvin Gaye guitar player Howard Westbrook.
- December 2005: Asia promo tour: Dan has left on a promo tour to South East Asia. Tour stops include Tokyo, Japan and Manila, Philippines. He will be back for concerts and appearances.
- November 2005: Hi&Fly Records in France releases "Lyn Collins Live" album, featuring Martha High, Marva Whitney and Dan Farrow as musical director and playing keyboards.
- October 2005: "James Brown's Original Funky Divas Tour": Dan is currently touring Europe with James Brown's Soulsister #1 Marva Whitney and longtime Brown musical director Charles "Sweets" Sherrell. Click "TOUR" on the left to view the cities visited.
- August 2005: Dan's mother Erna moved on to a better place after losing a battle with cancer on August 4. He misses her more then anything.
- August 2005: Dan's keyboard playing can also be heard on America's new #1 Billboard jazz record for seven weeks now, by guitarist Nils. He joins fellow A-list cats Steve Ferrone, Alex Al, Abe Laboriel, Paul Jackson Jr., Gerald Albright and others.
- August 2005: Positive Records received several tracks produced by Dan. The tracks contain uplifting messages geared to young urban kids getting them to eat healthier. Louis Van Taylor (Kool & The Gang) plays flute and sax on some of them.
- July 2005: Keyboard magazine publishes an interview with Dan (see PRESS) done while he was on tour doing the "James Brown's Original Funky Divas Tour". He reveals some of his favorite keyboards and why he likes them.
- June 2005: Dan's composition "One More Night" has reached the semi-finals at ISC (International Songwriting Competition), beating more then 11'000 entries from around the globe. The exclusive judging panel included Puff Daddy, Macy Gray, Bo Diddley, Taj Mahal, Branford Marsalis, The president for Universal Records and others.
- May 2005: Dan is playing with George Clinton's Mallia Franklin & The Funk Disciples at the Vault 360 in Long Beach CA, doing the Bass Player's Ball. Other performers include Ray Parker Jr., Michael Henderson, George Johnson and Adina Howard.
- April 2005: "James Brown's Original Funky Divas Tour": Again, Dan is on tour (see TOUR) in Europe with James Brown's soulsister #1 Marva Whitney and long-time Brown vocalist Martha High.
- March 2005: Dan plays a sold out show with George Clinton's Mallia Franklin & The Funk Disciples, headlining the Funk Festival at B.B.'s King Blues Club in Universal City, Los Angeles, California.
March 2005: *** "I am deeply saddened by the sudden death of my dear friend and amazing James Brown singer Lyn Collins. I hope you are in heaven now with Bobby". Dan Farrow ***
- February 2005: "James Brown's Original Funky Divas Tour": Dan is currently on tour throughout Europe playing keyboards with James Brown vocalist Lyn Collins (the world's most sampled female vocalist) and longtime Brown singer Martha High.
Click "TOUR" on the left to see if he is in a city near you.
- January 2005: Clavia Sweden supplies keyboards for endorser Dan Farrow: The latest award-winning Nord keyboards are being played live on tour by Dan with custom sounds that he programmed.
- December 2005: Dan is performing with the guys from Slapbak (Warner Brothers) at the Monte Carlo Resort in Las Vegas for one week.
- November 2004: Dan's third CD "Devotion is available again! Like his other CD's "Spacefunk" and "Evolution" his latest tracks can be heard by clicking on the left on "AUDIO". They are available by clicking on the "BUY CD'S" button or at towerrecords.com
- October 2004: Dan joins former Parlet and Bride of Funkenstein Mallia Franklin's (George Clinton) band. They are in the studio right now recording some tracks featuring other P-Funkateers.
- October 2004: Dan performs at the Kaufleuten Auditorium in Zurich, Switzerland with american soul singer Larry Woodley.
Copyright 2004 - 2022 Farrow Music